If you've been looking for a fishing boat that's functional and ready for any fishing expedition – but doesn't sacrifice style, comfort, or performance – the Blackfin 272CC is exactly what you need.
Built by Blackfin Boats, the Blackfin 272CC is a yacht-grade vessel, that's been designed to the ideal family and fishing boat. With angler-focused features and sleek, beautiful design that supports all families alike, this boat is sure to turn heads wherever you take it.
Stylish And Streamlined Design
The hull of the Blackfin 272CC makes an impression as soon as it comes into view. With an oversized bow flare on a center console and a deep rich color of onyx black hull sides, it's clear that this boat has been designed with special attention paid to aesthetics.
Rugged, Ready, And Purpose-Built Built For Fishing
Despite the streamlined and beautiful appearance of the 272CC. The vessel is engineered beautifully, and capable of handling even the most rough waters with ease. In 6-7 foot seas, you will find yourself in a boat that is easy to control, noticeably drier and leaves you feeling safer to venture out even further and make it home safe.
When it comes to performance, the boat is no slouch. With a top speed of 62 mph, which is prowered by twin Mercury Verado outboard engines, at top speeds, the boat stays steady and true, with no shaking and vibration of the hull or the custom-built hardtop.
The 272CC also has numerous features that are designed specifically for anglers. A thirty-gallon livewell provides ample amount of bait to be carried onboard, and a powerful pump ensures that the water stays fresh throughout your entire trip. Not only that, the state of art gemlux valve system Blackfin uses, allows you to create a pressure regulated system to help keep your bait alive longer! A twin pair of 54-gallon fishboxes also line the cockpit, so you're unlikely to run out of storage even during prolonged fishing sessions.
Further features for fishing enthusiasts include 4 standard rod holders mounted on the gunnel, and 3 at the transom, as well as multiple rod racks underneath the gunnel. The generous size of the boat makes it easy to move around the vessel, and the deep gunnels with large freeboard make for a safe and sturdy boat to ride in, when we all know that conditions can change quickly out on the water!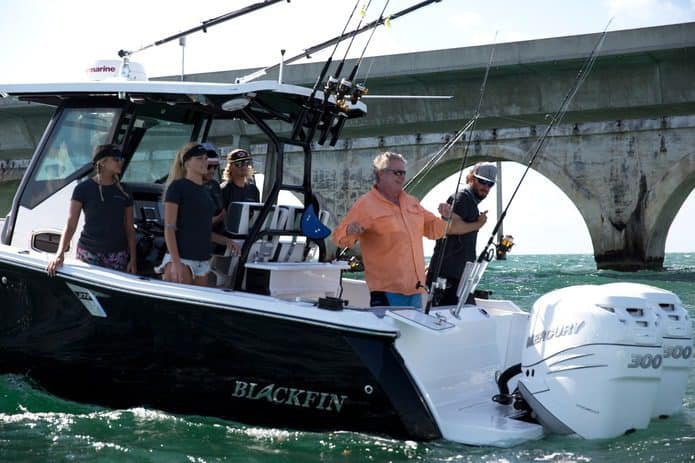 Plenty Of Creature Comforts
Despite its focus on fishing performance, the Blackfin 272CC also provides anglers with plenty of convenience and creature comforts throughout the boat which were ingeniously designed by the R&D department. For instance, the patent pending pantographic door which boasts a hinge that leaves an unobstructed pathway around the boat, as well as a oversized entry way into the head. The specificially engineerded coaming bolsters which come out and turn into comfortable large backrest at the bow seating area. Some other creature comforts which you can find throughout the boat are 9 drink holders scattered throughout the vessel. with some handy features including both raw water and fresh water wash downs, as well as a standard Porta Potti toilet and a pull-out sphower system.
At the helm, you'll find an engine monitoring system, dual 12v outlets with USB support, a power-assisted steering wheel (which is standard on Blackfin's), and a compass built into the digital engine monitoring system. Optional packages include a GPS upgrade, radar, a transduce upgrade and Premium sound system upgrade as well!
Performance, Style, And Utility Combine In The Blackfin 272CC!
The best fishing boats make no compromises. That's why you need to take a look at the Blackfin 272CC. It's comfortable, yet powerful. Utilitarian, yet stylish. Safe in rough seas, yet able to reach high speeds thanks to a streamlined hull design and robust engines.
So don't compromise. Take a look at the Blackfin 272CC today, and find the nearest Blackfin Boat dealer to get a look at this vessel for yourself!