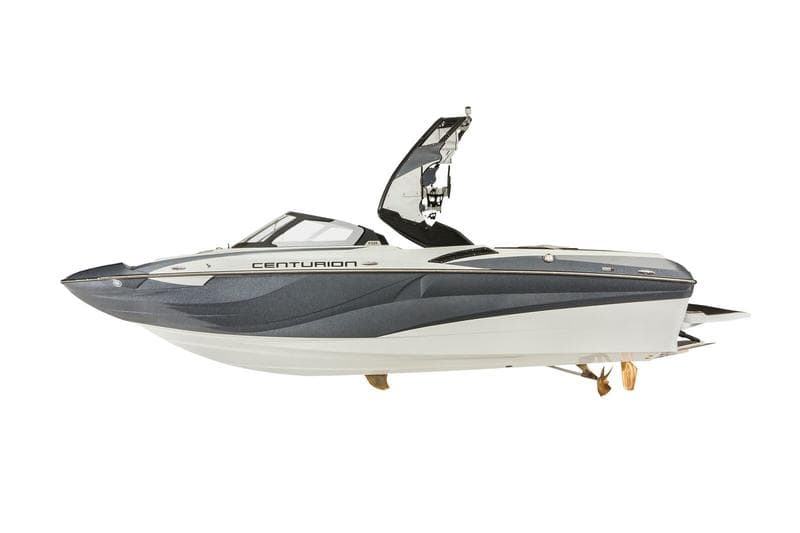 Length: 21′ | Beam: 102″ | Fuel Capacity: 48 gal. | Seating Capacity: 12 | Dry Weight: 5,100 lb. | More Information: centurionboats.com
All new for 2018, the Fi line is Centurion's wake performer at a more budget-friendly price. Simply put, the smaller Fi21 is a big success.
Who It's For
The Fi21 is a slick combo of wide-bow functionality and sporty, aggressive wake-boat looks. The 21-foot size is great for those who don't need a bigger boat but want to surf a big, clean wave. We definitely recommend adding QuickSurf to your boat, which makes the waves awesome and allows you to transfer. The Fi21 is a lot of bang for less buck, and it could even fit in your garage.
Our Favorite Things Opti-V hull. Centurion designed this hull to perfection, delivering killer, clean waves.
The looks. On the water this boat looks awesome, whether you're inside it, riding behind it, or drooling from afar.
Touchscreen dash. The new touchscreen is not only beautiful, but it's also intuitive and user-friendly, allowing you to quickly access a variety of the boat's controls.
Centurion Fi21 Wakesurfing Review WBM
Our Surf Settings
Speed: 10.8
Crew: 3
Ballast: Plug-and-Play Sides at 70, Bow at Zero, No Ramfill
User Settings: QuickSurf engaged, Center Plate At 45-60, CATS at Zero